Ikeda Seminar students of the Faculty of Economics and students of Ateneo de Manila University held a joint workshop online
By Dr. Maria Ikeda, Kyoto Sangyo University
Last January 13, 2021 (Wed, 10:30 to 12:30), the Ikeda seminar students of the Faculty of Economics, Kyoto Sangyo University held an online research presentation entitled "Ateneo de Manila University and Kyoto Sangyo University Student Workshop 2021". A total of 17 second-year and third-year students from our university participated, while from the Philippines, a total of 24 students from the Ateneo de Manila University Department of Economics and School of Management participated.
In addition to regular research activities, the Ikeda seminar also focuses on acquiring English communication skills through such exchanges with overseas students. This joint workshop with the Ateneo was originally scheduled to be held December last year, but due to the severe damages caused by a massive typhoon in November in the Philippines, the student workshop was postponed for a month.
A total of eight groups gave presentations from both universities. The KSU students reported on the following topics: (1) Food service industry: crisis and turning point, (2) Role of NPOs and implementation of volunteer activities in the event of natural disasters with COVID-19, (3) Issues related to balancing government infection control and "Go To" business continuity promotion program, (4) Current status and issues of contact tracing apps and remote work systems. On the other hand, students of the Ateneo de Manila University reported on: (1) Entrepreneurship of the poor, (2) Role of microfinance in microbusiness; (3) NPO's efforts in eco-park and agricultural employment development, (4) Online education and promotion of employment opportunities for persons with disabilities.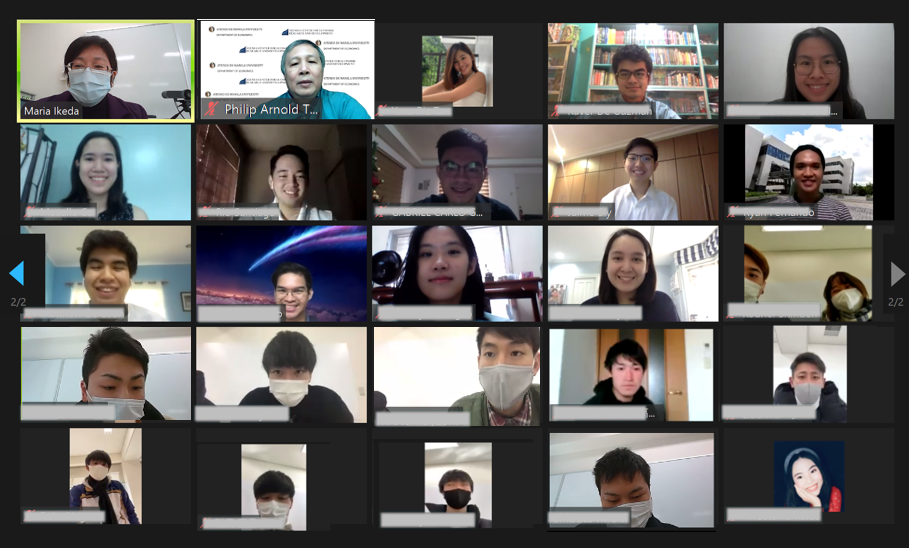 All Seminar I students participated while wearing masks in the classroom. However, the Filipino faculty members and students participated online from home since facilities on the Ateneo campus are still not available for use to alleviate the risk of spreading the novel corona virus. 
Finally, we deeply appreciate the support of Professor Philip Arnold Tuano, Ateneo de Manila University Department of Economics Chair and his students for warmly welcoming this opportunity to jointly hold this workshop despite the ongoing worldwide crisis. Thank you very much to everyone.
Top