ATENEO DE MANILA SHINES IN THE IMPACT RANKINGS DEBUT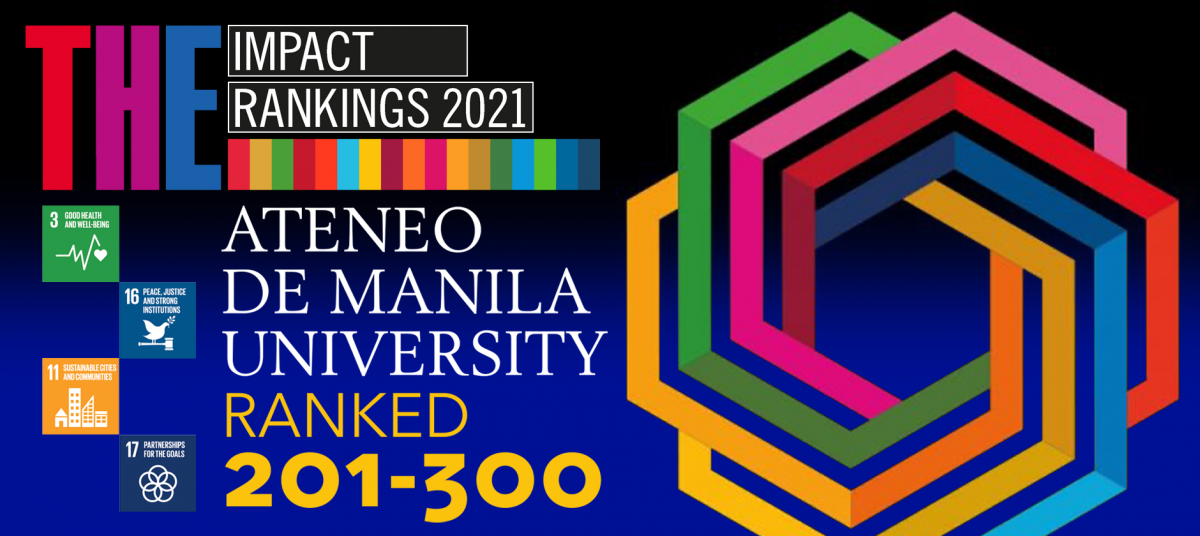 Ateneo de Manila University shone as the top Philippine institution in its debut appearance in the Times Higher Education (THE) Impact Rankings, which measures sustainability efforts of universities around the world.
The THE Impact Rankings is a global performance table that "assess universities against the United Nations' Sustainable Development Goals (SDGs),'' drawing its ratings from institutions' research outputs, outreach activities, teaching, and stewardship programs. This year, a total of 1,115 universities from 94 countries/regions took part. The rankings were released by THE, a leading global higher education publication, on 21 April 2021. This is the third year of the said league table.
Overall, Ateneo de Manila was ranked in the 201-300 bracket, the highest ranked Philippine institution in 2021. It is also the highest overall Impact Rankings placement of any Philippine institution since the performance table was inaugurated in 2019.
The University was ranked number =68 worldwide for Sustainable Development Goal (SDG) 17 (Partnerships for Goals), highlighting Ateneo's wide network of collaborations and partnerships with civil society, local and national government, business, and academe, at home and abroad. It is the highest ranked SDG rating for Ateneo.
Ateneo de Manila University had the highest scores in the following SDGs:

SDG 17: Partnerships for Goals: rank =68 (score: 87.4)
SDG 16: Peace, justice, and strong institutions: rank 101-200 (score: 63.1-72.9)
SDG 11: Sustainable cities and communities: rank 101-200 (score: 61.9-72.6)
SDG 3: Good health and well-being: rank 101-200 (score: 70.1-77.6)
The University was also rated for the rest of the SDGs (arranged according to ranking):
SDG 6: Clean water and sanitation: rank =99
SDG 13: Climate action: rank 101-200
SDG 15: Life on land: rank 101-200
SDG 7: Affordable and clean energy: rank 201-300
SDG 12: Responsible consumption and production: rank 201-300
SDG 1: No poverty: rank 300-400
SDG 5: Gender equality: rank 301-400
SDG 2: Zero hunger: rank 301-400
SDG 14: Life below water: rank 301+
SDG 9: Industry, innovation, and infrastructure:rank 401-600
SDG 10: Reduced inequalities: rank 401-600
SDG 4: Quality education: rank 601-800
SDG 8: Decent work and economic growth: rank 601+
Engagement with the wider world has always been part of the University's mission. All its different units - Basic Education, Loyola Schools, Professional Schools, and its myriad of research centers and institutes - have a variety of programs linked to sustainability, environment, socio-political engagement, and addressing inequalities. Among the most prominent are Gawad Kalinga; the Ateneo Center for Educational Development; Pathways to Higher Education; the Ateneo Institute of Sustainability; Ateneo Policy Center; and the Ateneo Human Rights Center.  At present, it is actively engaging in the fight against COVID-19 through research, relief, addressing needs of front line workers, and in helping schools adjust to online learning.
The University's linkages and partnerships include the UN Sustainable Development Solutions Network; sector representation in the National Disaster Risk Reduction and Management Council; ASEAN University Network-Ecological Education and Culture secretariat; and the Coastal Cities at Risk project. It also works with a wide network of local governments as well as with the national government, through the Ateneo School of Government, Ateneo School of Medicine and Public Health, Loyola Schools, and the Office of the Vice President for Social Development.
The University also regularly releases the Ateneo Sustainability Report, which gives a broad overview of Ateneo's efforts in connection with the UN SDGs. It is published by the Ateneo Institute of Sustainability every three years, with the most recent one released 2020.
Impact Rankings 'consistent' with Ateneo's identity, mission
"Ateneo de Manila's noteworthy performance in the 2021 THE Impact Rankings - its initial outing, to be precise - shows that our University can stand shoulder-to-shoulder with the world's top institutions when it comes to actual, real-world impact," said Fr Roberto Yap SJ, University President. "THE Impact Rankings are really consistent with our identity and mission. The SDGs on Health, Sustainability, Peace and Justice, and Partnerships really resonate with who we are and what we do."
"It is proof that our community is able to affect change in our society, in our classrooms, to our research and creative work, and our social development programs. Ateneo de Manila vows to continue and expand its work in helping create a more sustainable and equitable world for everyone," he added.
Leading the global rankings is the University of Manchester (United Kingdom). A total of five Philippine universities entered the overall rankings.
The Sustainable Development Goals (SDGs) are called the "blueprint to achieve a better and more sustainable future for all" by the United Nations.
First set in 2015, the SDGs, also called the Global Goals, are 17 interlinked aims that are "urgent call for action by all countries - developed and developing - in a global partnership."
The organization explains its methodology on its website, timeshighereducation.com.
Top