Ateneo-led research team discovers new fern species useful for bioremediation
A species of fern that can absorb high levels of copper and arsenic was recently identified by a team of Filipino research scientists led by Ateneo de Manila University faculty - a discovery that can greatly benefit areas undergoing rehabilitation from mining.
Pteris melanocaulon, a native fern, has been identified as a metallophyte - an organism capable of absorbing high levels of metal, enabling it to thrive in soils with high concentrations of metal.
In the study by a team of researchers led by Dr. Rene Claveria, assistant professor at the Department of Environmental Science, Ateneo de Manila University, found out that the P. melanocaulon can also absorb copper, as well as high levels of arsenic.
The team is also composed of Dr. Teresita Perez (Ateneo de Manila University), Dr. Dennis Apuan (University of Science and Technology of Southern Philippines - Cagayan de Oro), Mary Jane Apuan (Xavier University Cagayan de Oro) and Ellaine Castillo Perez (Institute of Biology, University of the Philippines).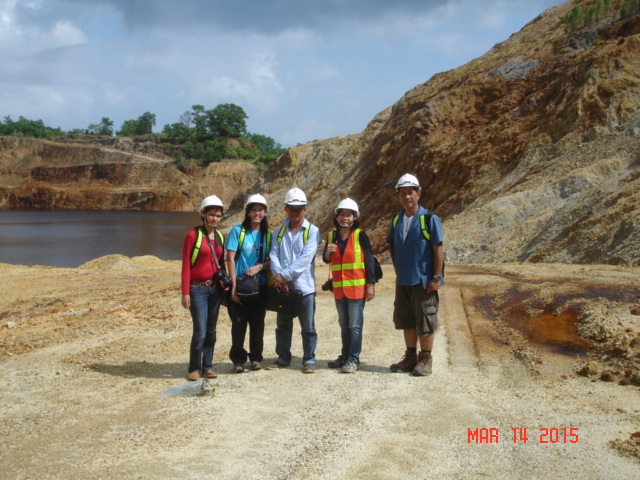 The research team in an open pit mine in Surigao del Norte.  From left: Ms. Mary Jean Apuan, Ms. Ellaine Rubee Perez, Dr. Dennis Apuan, Dr. Tess Perez and Dr. Rene Claveria.
Arsenic is a toxic metalloid that naturally occurs in some copper and gold mining projects and gets exposed during open pit mining, contaminating the soil and water in the process. Excessive levels of arsenic may cause major health complications, from skin damage to problems in the circulatory system and even cancer. Exposure to the metalloid in waterways like streams and rivers may lead to contamination of the living organisms in such ecosystems. Ingesting fish or mollusks that are exposed to arsenic results in arsenic poisoning.
Observing the plant in mining areas in Surigao and Cebu, the research team first found out in 2014 that P. melanocaulon was an efficient copper accumulator. Claveria and the team went further, and sought to assess the plant's ability to accumulate arsenic.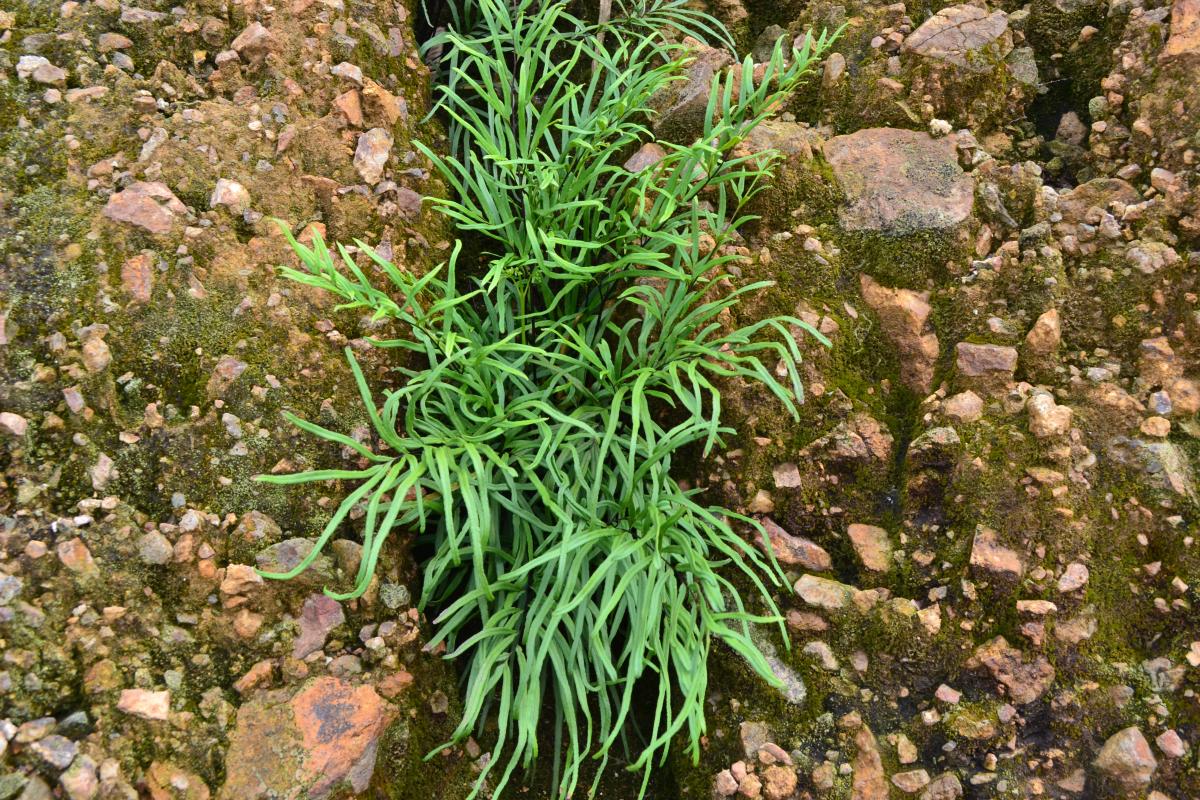 The copper and arsenic - accumulating fern Pteris melanocaulon thrives very well in abandoned mining areas in Surigao and Cebu.
"In a copper-gold mining area as study site, the fern was discovered to have an ability to accumulate copper," said Claveria. "What we discovered much later is that this fern can also accumulate high levels of arsenic."
With funding from Philippine Council for Industry, Energy and Emerging Technology Research and Development (PCIEERD) of the Department of Science and Technology (DOST), the team was given access to field surveys and sampling.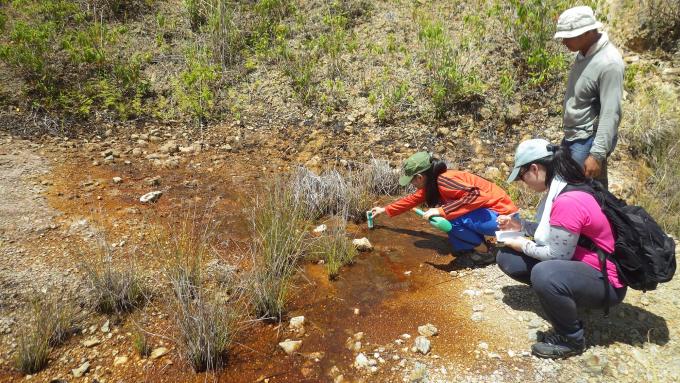 The team conducts water and soil quality tests in the abandoned mine areas.
They found that P. melanocaulon was able to grow in soils that were contaminated with copper and other elements such as arsenic. These observations were confirmed on potted experiments where different concentrations of copper and arsenic solutions were made as soil amendments. Findings show that the fern's roots and leaves were not affected.
"It is the first type of fern discovered to accumulate copper in the roots and arsenic in the leaves," Claveria said.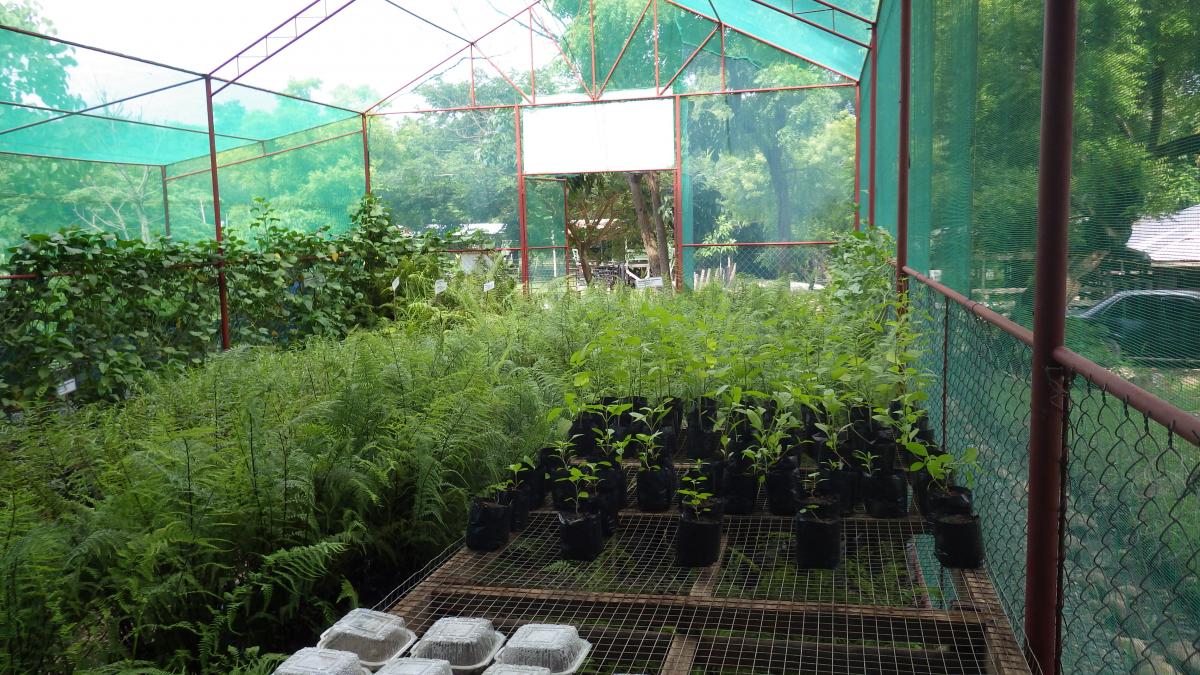 The greenhouse at Xavier University where most of the ferns being studied were propagated and experimented on.
The new discovery then is useful especially in helping the mining industry and the local government remove, stabilize and destroy contaminants in the soil, he said. "Successful propagation of Pteris melanocaulon can clean up the entire area, making it suitable for other plants to grow. This can help revegetate and stabilize the land that is already affected by toxic elements."
The findings were published in International Scientific Journals: International Journal of Phytoremediation (2015) and Chemosphere (July 2019).
Top