Ateneo de Manila sets up first university-based blockchain lab in the Philippines
A decade after the whitepaper on Bitcoin was released, demand for block chain technology, Bitcoin's backbone, is on the rise. From supply chain and contract management to insurance and healthcare, the technology's potential to revolutionize the way things are done continues to draw the attention of scholars, researchers and scientists. To keep pace with the growing demand, the Ateneo de Manila University set up AMBERLab (Ateneo-MediXServe Blockchain Education and Research Lab).
AMBERLab is the first university-based blockchain research laboratory in the Philippines. The lab has the support of two blockchain pioneers in the country: MediXServe, a health-tech company that uses blockchain in securing medical and health records, and NEM Philippines, a chapter of the NEM Foundation, which is a blockchain platform provider. Once blockchain technology matures and public interest heightens, blockchain research and development will have to make their way into the corridors of educational institutions. The lab is poised to become a venue for research and education of blockchain technologies. It aims to further blockchain's reach and use in the health tech, FinTech, edutech, Artificial Intelligence, data analytics and other industries.
The Emergence of Bitcoin and Blockchain Technology
In 2008, Satoshi Nakamato (whose real identity remains a mystery) released a paper entitled "Bitcoin: A Peer-to-Peer Electronic Cast System." Bitcoin is a decentralized digital system that allows people to exchange money without having to go through intermediaries like banks. It is a cryptocurrency or a form of electronic cash. Bitcoins can be exchanged for products, services or even other currencies. It uses peer-to-peer technology, thereby allowing anyone to take part.
Blockchain, on the other hand, is the technology that makes bitcoin or any cryptocurrency viable. Blockchain, in a nutshell, is an incorruptible public digital ledger that can be checked or confirmed by anyone via the internet. This digital ledger organizes transactions into data "blocks" which in turn are arranged into a "chain," linking it to other blocks. The links can be seen by anyone, making it easier to identify, verify and protect transactions. It is similar to a public database rather than having a central authority. This public ledger makes for an automated and more secure system.
Blockchain technology proponents say that it leapfrogs systems increasing efficiency, promoting transparency, reducing cost and eliminating bureaucracy. It can serve as a springboard for a country's development. The technology, however, is still in its infancy. Much research is still needed to propel its growth.
Enter AMBERLab.
AMBERLAB and Nation Building
"We align AMBERLab with the mission and vision of the university and the Department of Information Systems and Computer Science. To be pioneers in innovative and advanced computing technologies that serves the nation" says Dr. Regina Estuar, Chief Research Officer of MediXServe and Executive Director of AMBERLab.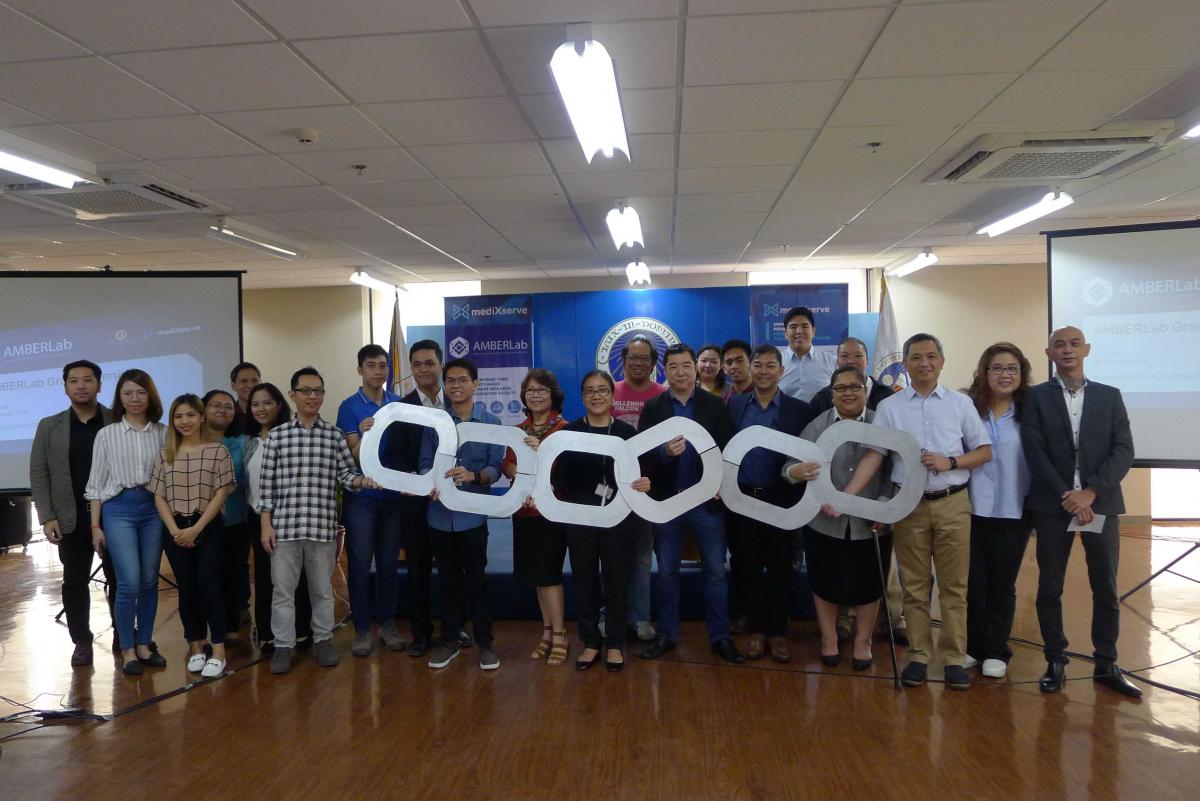 Representatives from Ateneo de Manila University, MediXServe and NEM Foundation
"We want to develop IT practitioners who code with a heart, inspired by knowing who they are building the code for. We focus on health, disaster, transportation covering daily complex problems of Filipinos." With AMBERLab, Estuar hopes to "pave the way for the landscape and digital space of 2030. Blockchain research is an untapped area, especially in developing countries."
Scholars, researchers and scientists will be able to take advantage of the new laboratory, which already has a dedicated working space at the School of Science and Engineering (SOSE). One of the four schools that make up Loyola Schools, SOSE has been an academic center for science and engineering. With a curriculum that emphasizes hands-on experimentation, discovery, problem solving and creativity, the school is primed to make AMBERLab at the forefront of building blockchain technology.
At AMBERLab, students can design and undertake innovative projects that maximize the benefits of blockchain technology and make a positive difference in the world. Continued mentorship from Ateneo, MediXServe and NEM Foundation can help the students get there. The approach, says Estuar, is multidisciplinary. AMBERLab has already launched its first electing during the second semester of SY 2018 - 2019.
AMBERLAb may be incubated in an academic setting but non-Ateneo students and faculty can also avail of its resources.  Short courses and workshops for teachers will soon be offered. Intellectual capital needs to be shared to further refine and develop solutions for society's growing problems."
"AMBERLab hopes to prepare the next generation of programmers who will take advantage of cutting edge technologies in providing solutions that will empower and enable the lives of the many." says Estuar.
Top