Business gurus share lessons on innovation
Paolo Borromeo,Chief Executive Officer of Ayala Healthcare Inc.
Kickstarting is not for the weak of heart. It is for those with dogged persistence, brimming optimism, disrupted mindset and unending sense of wonder," said Dr. Antonette Angeles, Vice President for the Ateneo Professional Schools at the opening of the business summit "Kickstart Innovation & Grow the Nation. The Ateneo Graduate School of Business organized summit, held last March 16, 2017 at the Shangri-la at the Fort,  brought together 6 business experts to share their stories on innovation.
Paolo Borromeo, Chief Executive Officer of Ayala Healthcare Inc., first spoke of Ayala's innovation strategy.
At 183 years old, Ayala Corporation is the oldest business company in the Philippines. Its secret to longevity, Borromeo said, is innovation and reinvention.
"Our business philosophy is that we need to be innovative to remain relevant and meaningful as a business house. We manage to evolve our own portfolio to try to meet the changing trend," Borromeo said. More than anything, innovation at Ayala means improving the lives of people, he added.
Borromeo said that the Zobel family which runs Ayala Corporation has returned to the healthcare sector with Ayala Healthcare.
"Healthcare is our newest innovation," he said. Through Ayala Healthcare, the company hopes to contribute to the national health agenda. Borromeo added that the best innovations are those that "develop sustainable solutions to serve the underserved."
Developing sustainable solutions is also one of the motivations of transportation network company Uber. Lawrence Cua, Uber Philippines' general manager, talked about how Uber has provided extra income opportunities through sharing economy.
"Uber is changing the idea of car ownership," Cua said. Instead of letting an extra car (remain) idle in the garage, that car can be used to generate extra income. In addition, Uberhop, a service offered only in the Philippines, helps reduce congestion and pollution in Metro Manila through ridesharing. Giving people access to technology to make life easier is the blueprint of Uber, Cua said.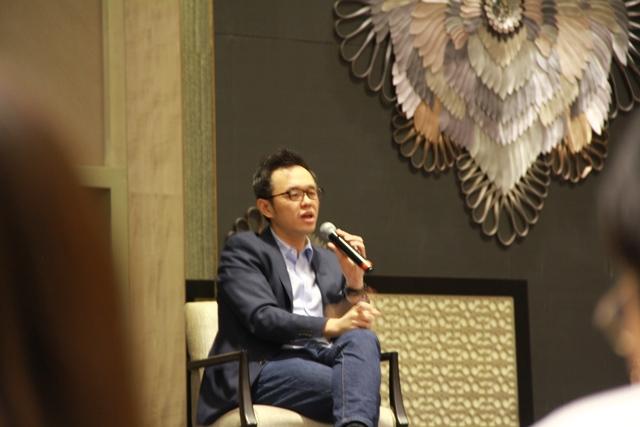 Lawrence Cua,Uber Philippines' general manager
While companies such as Uber use technology to innovate, the role of human capacity remains critical.  This was further explained by Tom Oliver, international best-selling author and innovation guru.
"People are your greatest capital so make every voice heard," he said.  Innovation happens everywhere so it is important to understand the hearts and minds of consumers, he said. "Your next best idea might come from the door man. The door man is in constant touch with the customer—he has his 'ear to the ground'."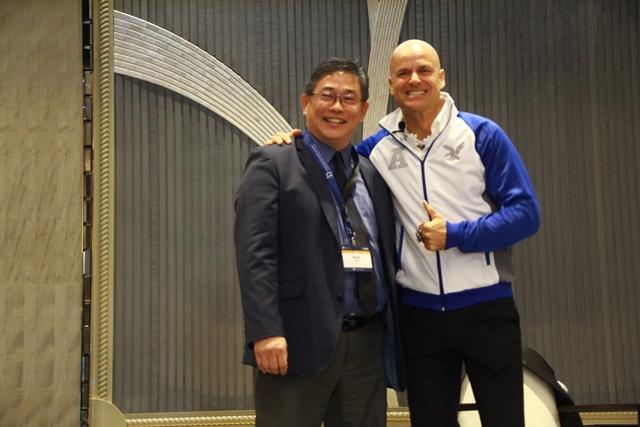 Ateneo Graduate School of Business Dean Rodolfo Ang presents an Ateneo jacket to Tom Oliver.
Oliver, who has served as consultant to some of the world's biggest business groups, stressed the importance of creative collaboration. "If you want to grow fast and tap into the full potential of innovation, find the right balance between structure and flexibility."
The next speaker, JJ Atencio, Chief Executive Officer of mass housing developer 8990 Holdings, stressed the importance of being attuned to market needs.
"Business is all about relevance," he said.   "Providing low cost housing does not necessarily mean low value." Housing, he added, is "not about houses, it is about people."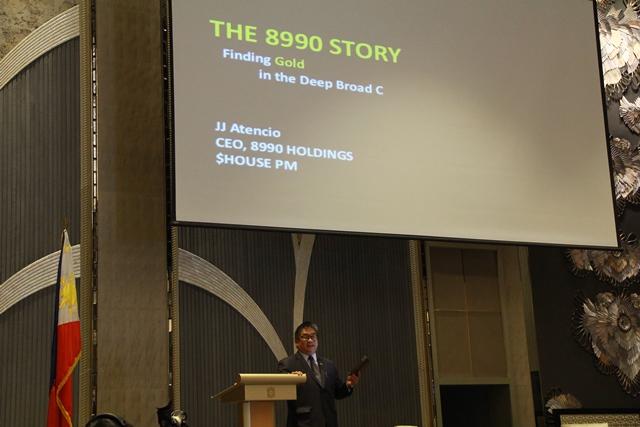 JJ Atencio, Chief Executive Officer of 8990 Holdings
Taking advantage of the growing millennial market is important and the key to do this is effective communication—knowing their values, their aspirations, and getting to the core of what drives them, Atencio explained.
For his part, Ysmael Baysa, the Chief Finance Officer of Jollibee Foods Corporation, talked about acquisition.
"Acquisition is an important strategy of Jollibee and we create value out of these acquisitions," he said. While Jollibee remains its flagship brand, the corporation also includes other fast food businesses like Chowking, Greenwich Pizza, Red Ribbon, Mang Inasal, and Burger King Philippines.
As Jollibee continues to expand—it is currently the largest Asian restaurant company in terms of market capitalization—the company remains true to its roots.   All corporate responsibility initiatives of Jollibee focus on food: feeding program, farmer entrepreneurship, food aid, etc.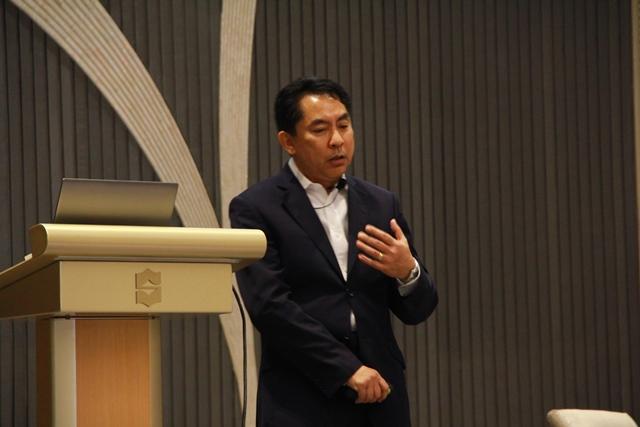 Ysmael Baysa,Chief Finance Officer of Jollibee Foods Corporation
"Jollibee gets 20% of produce from the farmers and there are benefits to farmers like better income, higher yield, lower cost and additional income for community members," Atencio said.
Embracing community members is what inspired Perry Chen to create Kickstarter. As the summit's keynote speaker, Chen recalled his experience in building the global crowdfunding platform.
After college, Chen worked as a DJ, trader, musician, pre-school teacher, and waiter. The idea for Kickstarter began when he faced difficulties in bringing musicians into New Orleans. Kickstarter embraced the concept of crowdfunding or getting small donations rather than pooling huge amounts from large investors.
Since it started, Kickstarter has received $2,927,357,650 to fund creative projects. What makes Kickstarter thrive, Chen said, is an explosion of creativity. "People are embracing their creative identity more."  Kickstarter has helped artists, filmmakers, developers, and creators get their projects off the ground.  By focusing on others' innovation and ideas, Kickstarter has hit the right market.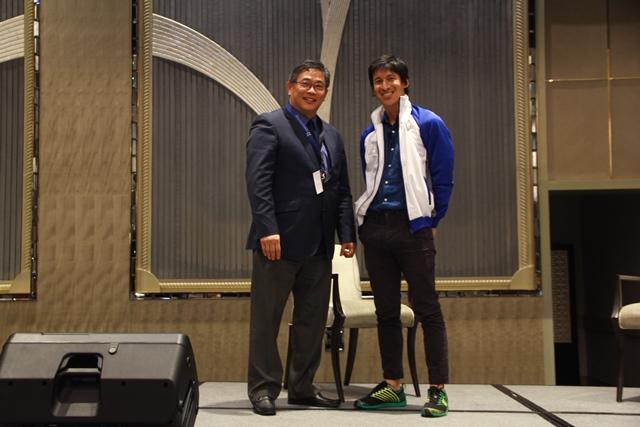 Ateneo Graduate School of Business Dean Rodolfo Ang poses with Perry Chen of Kickstarter.
Finally, Chen gave 3 elements needed to innovate: vision, intuition, and risk.  Having a vision is a given, he said but intuition is something that helps you "feel if the idea will fly."   
Risk, on the other hand, "is inherent to innovation," Chen said.  Risk taking is important when one wants to start something, he said.
"Kickstart Innovation & Grow the Nation" business summit was a part of the Ateneo Graduate School of Business' 50th anniversary celebration.
Top