Be bold for change: Ateneo celebrates International Women's Day
Ging Cristobal stresses the importance of including the LGBT community in creating laws and policies.
In celebration of International Women's Day last March 8, 2017, the Ateneo Law School (ALS) invited 4 women leaders from all spheres of life to share stories of their challenges and triumphs.
Held at the Ateneo Professional Schools campus in Rockwell Center, Makati City, "Gender Talk 2017 #Beboldforchange 2017" featured an LGBT rights activist, a transgender public servant, a netizen who is fighting cyber harassment, and an advocate for Philippine culture, arts, and heritage.
Ging Cristobal, Project Coordinator for Asia and the Pacific, OutRight Action International, spoke on the current issues that the lesbian, gay, bisexual, and transgender (LGBT) community faces.
 
Addressing the future lawyers in the audience, Cristobal said there are 2 questions that need to be tackled: What laws are being contrived for these situations? What other laws can the LGBT community use in these incidents if that there are no laws that directly address their issues?
What the LGBT community seeks, Cristobal said, is the passage of the anti-discrimination law.  It is also important to include the community in laws and policies of the country, she added. "What we just want is to be treated as equals. LGBT rights are maturing. It is still blossoming. We must never lose hope. We must never lose faith. It will never happen if we stop hoping."
Never losing hope has been the battle cry of Bataan Rep. Geraldine Roman. As the country's first transgender congresswoman, Roman has had her share of challenging times.
"It was difficult for a transgender child to grow up in this country," Roman said. "At that time, awareness was not very high. Nobody knew what it was."  With the help of her family, friends and the Jesuits—she spent her secondary education at the Ateneo de Manila High School— Roman was able to find her voice. She is using the same strength to champion gender equality.
"What I want is equal opportunity for all regardless of personal circumstances. It should transcend gender equality," she said.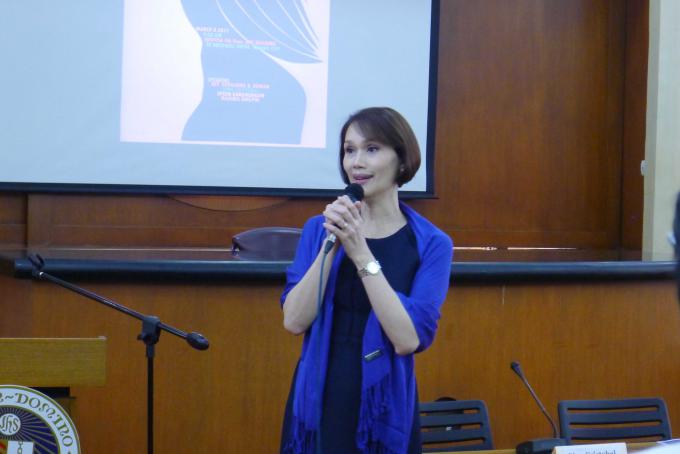 "What I want is equal opportunity for all regardless of personal circumstances," says Bataan Rep. Geraldine Roman.
The topic of discrimination was also discussed by Renee Juliene Karunungan.
"The internet is the new battleground for women, which is sad because we haven't even won the fight offline," she said.
During the May 2016 elections, Karunungan—a women's rights and climate action advocate, made a Facebook post against then presidential bet Rodrigo Duterte. Netizens who claimed to be Duterte fans attacked her and Karunungan received threats. Karunungan has filed election offense cases against them.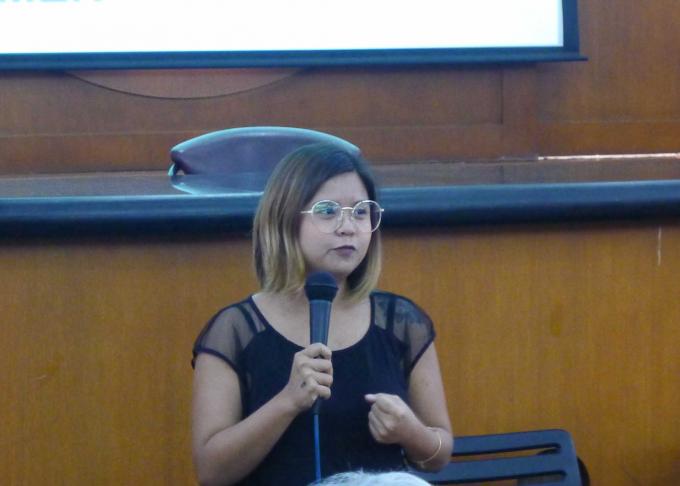 Renee Juliene Karunungan encourages all women to fight against online harassment.
"Since I filed the cases, I get random messages from women harassed online asking me how I filed the case," she said.  Dealing with cybercrimes is something, Karunungan said. "There's very low knowledge of what to do especially since digital media is a very new space."
Karunungan gave this advice to the women in the audience: "Your rights online are the same as your rights offline."
The event ended on a positive note with the Maribel Ongpin who talked about how women, especially those living in rural areas, have become empowered through entrepreneurship.
"The reality is usually women have to earn the right (to power and opportunity) through several ways," she said. Habi, a group established in 2009 which Ongpin heads, indigenous women are able to earn and raise their families. At the same time, HABI plays a pivotal role in the preservation of indigenous weaving cultures.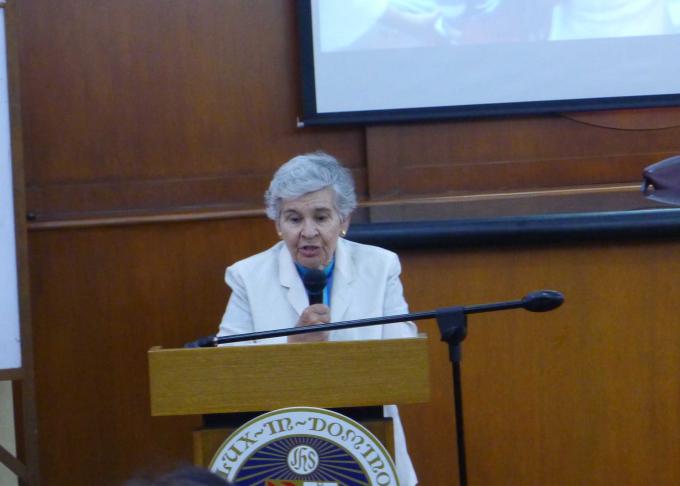 Maribel Ongpin says Habi has helped women earn a living wage.
"Gender Talk 2017 #Beboldforchange 2017" was organized by ALS' Gender and Law class.
Top