Ateneo Hosts SHARE Scholars
Tunn Cho Lwin, 4th yr., BS Mathematics
"I don't feel like I'm a foreigner in the Philippines---- I'm like a Filipino," says Tunn Cho Lwin, a 4th year BS Mathematics student from University of Yangon. Lwin is one of the 175 (Batch 3) recipients of the European Union Support to Higher Education in the ASEAN Region (SHARE) scholarships. He is enrolled for a semester at the Ateneo de Manila University.
SHARE, a four- year joint initiative of the European Union and the ASEAN, aims to strengthen regional co-operation, enhance the quality, regional competitiveness and internationalization of ASEAN higher education institutions and students.
Lwin is joined by a fellow University of Yangon student, Myo Naing Win.
"We just need to be concerned about our studies. The grant covers everything."
As scholars, the two are entitled to free tuition and fees (waived by the host universities), a monthly stipend/living allowance, return airfare, health insurance, a one-time settling in allowance, study materials, and visa expenses. Another benefit, Win says, "is that we can use our study credits from the Ateneo in our home university."
With the SHARE scholarship, Lwin is not only gaining an Ateneo education but is widening his network: "I meet new people, experience a feeling of togetherness and celebrate other cultures."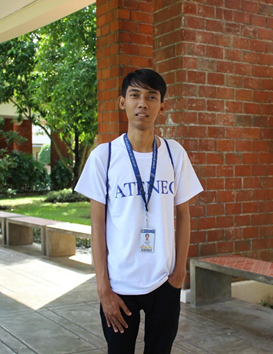 Myo Naing Win, 4th yr., BS Chemistry
When asked why they decided to study in Ateneo, Win replies, "I chose the Philippines because the Filipinos are really good in English. I can communicate and study easily. The Philippine education is also higher in ranking in Asia and Ateneo is one of the most popular private universities in the Philippines."
Lwin, on the other hand, was drawn to the Ateneo's curriculum.
"Ateneo will give me the best of knowledge in Mathematics and help fulfill my dream of becoming a Mathematician," he says.
After two months, both Winn and Lwin have settled nicely into the life of an Atenean. Win says that he likes the classroom style of the Ateneo.
"The professors focus on the discussion. They ask a lot of questions like, how do you solve this problem? The professors encourage the students to study," he says. He is now a member of the Ateneo Chemistry Society and looks forward to its many projects.
Lwin, meanwhile, hopes to stay for another semester and pursue his graduate studies in the Ateneo.
Applications for Batch 4 of SHARE Scholarships is ongoing. Visit share-asean.eu or send your inquiries to oir@ateneo.edu.
Top