From Marikina to Switzerland, Ateneo alumna takes a trip of a lifetime
Marie Gene with medical doctors fromGesundheitszentrum Fricktal (Fricktal Health Center) in Rheinfelden, Switzerland.
Ten years ago, studying at the Ateneo de Manila University was never an option for Marie Gene Cruz. Financial resources were stretched thinly for the Cruz family, especially after her father suffered a heart attack and had to undergo a heart bypass surgery.  Fortunately, in her second year at Marikina Science High School Marie Gene learned about Pathways to Higher Education, a program providing assistance to academically gifted but financially disadvantaged students.  
"I was very fortunate because out of 200 students in our high school batch, I was included in the list of students recommended for scholarship," she said.  Through Pathways' Trailblazers program—a comprehensive academic formation curriculum that helps equip students with skills and competence—Marie Gene was able to study at Ateneo.
Ten years later, Marie Gene not only earned an Ateneo diploma but went to Europe, again thanks to the program that paved the way for her: Pathways.
Staying in the Trailblazers program was not easy, she admits.  There were classes and workshops that she had to attend on a regular basis, on top of her regular academic load.   
"Oftentimes, once a participant has already been granted a scholarship [coursed through Pathways], he or she no longer attends the required leadership workshops and classes because the scholar feels the program (is) unnecessary," she added.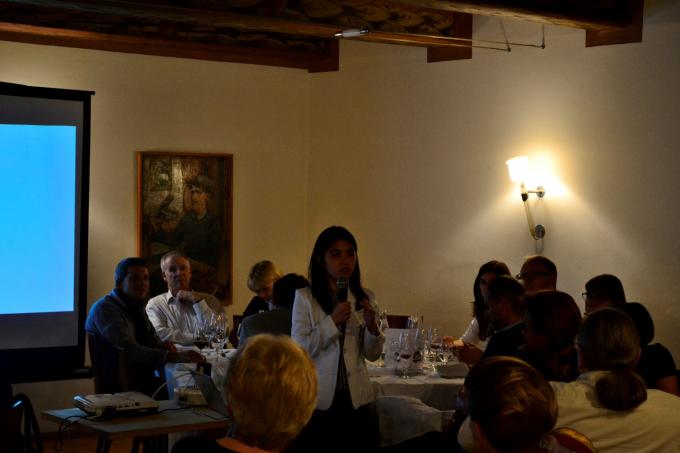 Marie Gene speaks at the Impact Dinner in Basel, Switzerland.
Marie Gene, however, soldiered on. "I chose to stay not just because of debt of gratitude (for helping me with my college scholarship) but because I knew even from the beginning that Pathways would help me become a better person," she explained.
In 2012, she graduated magna cum laude in Life Sciences. Marie Gene's dream of becoming a doctor was starting to shape up. She had already applied with several medical schools and with her academic record — she also graduated salutatorian in high school — Marie Gene was accepted at the University of the Philippines' College of Medicine.  Seeing Marie Gene's potential, Pathways decided to help by looking for donors who would support Marie Gene's school fees. To date, she is the only Pathways participant who has been given a post-graduate scholarship through the Pathways Advanced Studies Fund.
"Pathways is helping me reach my childhood dream of becoming a doctor for the underprivileged.  It has not only helped me financially and academically, but most importantly, it has helped me realize my potential as an outstanding student, a socially-aware doctor, and a future responsible leader," she said.
In October 2016, Pathways opened another door of opportunity for Marie Gene through an internship program in Switzerland.
Aiducation International, a partner organization of Pathways, had an opening for a brief student internship in a Swiss hospital.   Pathways recommended  Marie Gene to Aiducation.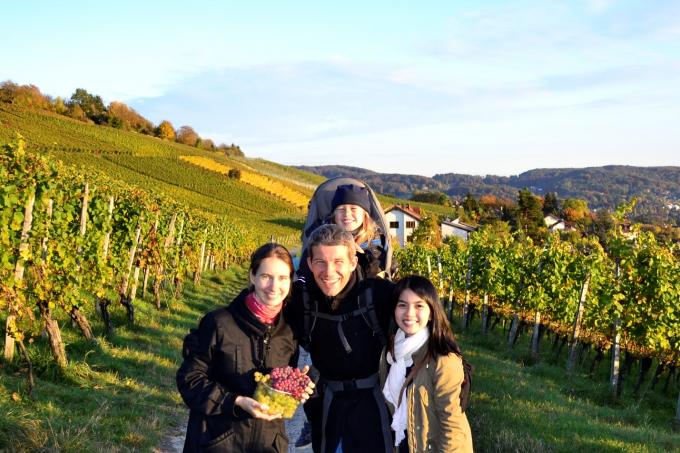 Hiking with Aiducation's Kristin and Florian Kapitza with their son Martin
Marie Gene spent 2 weeks of hospital internship at Gesundheitszentrum Fricktal (Fricktal Health Center) in Rheinfelden where she saw first-hand the difference between a Philippine and Swiss hospital.
"I saw how the Swiss doctors and medical staff took time to talk and listen to their patients. I also saw how the patients' faces changed from a frown of anxiety to a smile of gratitude. In the Philippines, especially in a public or government hospitals, we barely spend more than 10 minutes per patient because of the overflowing number of patients we need to attend to," she said.  The experience made her realize the importance of treating patients kindly.  
"It was a life changing experience. If only every government health worker realized that treating patients humanely would make a difference in patients' recovery - even just that few minutes of talking and listening to them -  then our patients could have probably been as satisfied and happy as those in Switzerland."
Marie Gene also attended various meetings facilitated by Aiducation. At the Aiducation Impact Dinner, Marie Gene was asked to share her experiences.
"I talked about my family, how we struggled financially; how education, despite being a right, only seemed to be a privilege in the Philippines; how our public schools lacked the resources, manpower, and good quality of education," she said. She also spoke of how Pathways changed her life as a student and as a Filipino.
"Pathways is not just the organization that gave and is still giving me a scholarship. It is a family which keeps on bringing out the best in me; a family which encourages me to become a better version of myself, not just for myself but for the Philippines."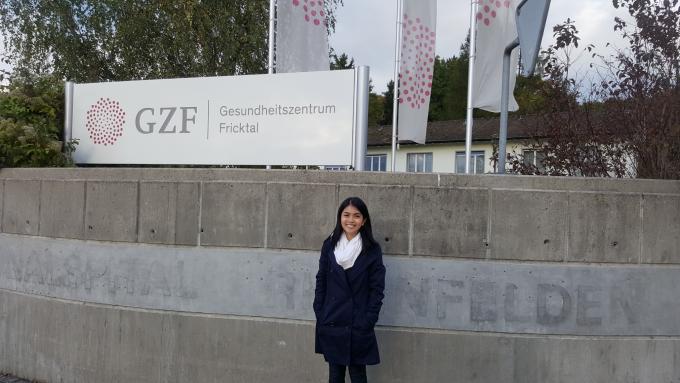 The Switzerland trip has further cemented Marie Gene's dream to finish her medical studies and make a difference in the society "It's a much needed reminder of why I am studying medicine: to serve the underprivileged."
Top