Lacuna catches last bus to Rio
Barely a month left till the Rio Olympics 2016 and the 'Bulacan Bullet,' Jessie Khing Lacuna, finally gets the nod from FINA, the world governing body for aquatics, to be one of the nine hundred participants in the swimming event of the quadrennial meet. Lacuna also received confirmation from local Olympic body, the Philippine Olympic Committee (POC), of his inclusion in the list of Philippine delegates.
 
This qualification justifies UAAP's controversial decision to award Lacuna as UAAP co-athlete of the year along with Rio-bound La Salle table tennis ace Ian Lariba, Ateneo's volleyball phenom Alyssa Valdez and Adamson's softball champion Queeny Sabodo. On the issue, Lacuna has this to say: "Honestly, I didn't expect to be one of the awardees because I know a lot of student-athletes perform very well in their own respective sports. However, I do really appreciate it – that somehow, swimming is still being given attention. I'm happy also because I know that this is just the beginning and there is more to come."
 
Very few people know that Lacuna is already an Olympic veteran, having participated in the 2012 London Olympics before he entered Ateneo de Manila University for college. The past four years have been spent competing not just in the UAAP Swimming Championships but also in international competitions like the FINA World Swimming Championships, Asian Games and Southeast Asian Games.  In the UAAP, Lacuna is already a legend even after just competing in two seasons for the Blue Eagles. Apart from bringing home the championship twice, he is also the reigning back-to-back MVP and holds multiple records in the league. Thus far, he has not won anything but gold medals for Ateneo in all fourteen events he has participated in. 
 
While he has lorded over the local competitors, Lacuna has also had some success in the region. In the last Southeast Asian Games in Singapore, he brought home a silver medal and two bronze medals to spearhead the Philippine team. These competitions, of course, do nothing but to build him up for the ultimate goal – the 2016 Rio Olympics. The 2015 SEA Games was a good meet for him as he registered marks that surpassed the Olympic Selection Times (OST) to allow FINA to consider him for Rio. His 200m Freestyle (1:50.82), 400m Freestyle (3:55.34), 200m Butterfly (2:00.89) and 200m Individual Medley (2:02.24) all went below the OST. However, when asked which events he is looking to swim in Rio, Lacuna says that he's targeting 400m Freestyle and 200m Individual Medley.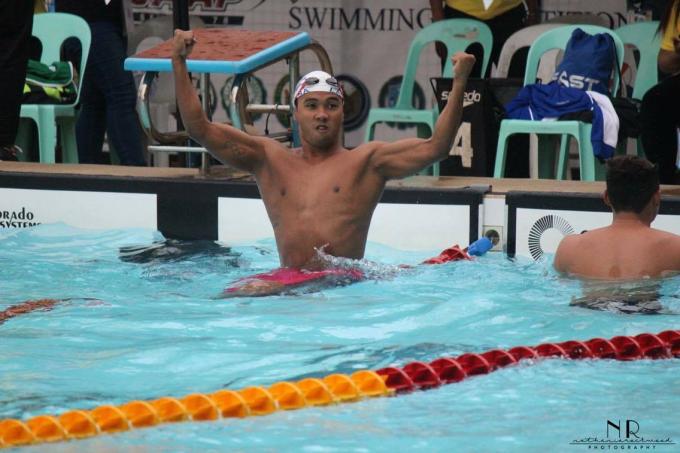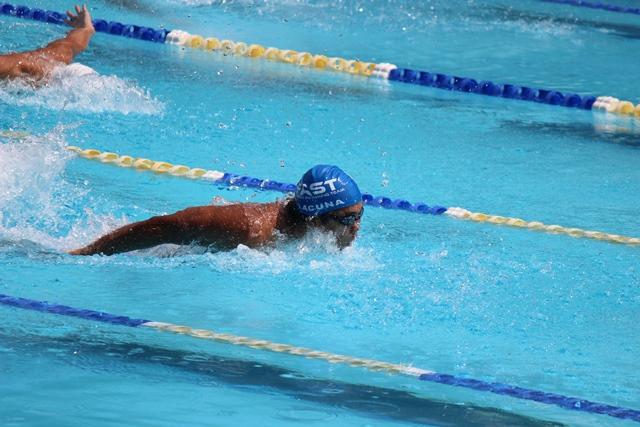 Lacuna, of course, did not want to leave his qualification to the Olympics to chance. To guarantee a slot in Rio, a swimmer can register a time that goes below the Olympic Qualifying Time (OQT) – typically the time of the 16th placer in the previous edition of the games. Lacuna participated in the last possible qualification event before the Olympics – the 2016 Swimming Australia Grand Prix in Brisbane last July 1 and 2. Unfortunately, he wasn't able to breach the OQT marks. All is well, though, as he still made it to FINA's list of nine hundred athletes.
 
Chasing an Olympic dream definitely has its price. Lacuna had to take a leave of absence from Ateneo for one term to spend a few months alone in Canberra, Australia for a swimming camp. He also went through a shorter version of this camp last year to prepare for the SEA Games. Admittedly, Lacuna says that the experience would be difficult. "This is a very difficult experience for me. Being away from your loved ones takes a toll on your emotional stability," the Bulacan native shared. One of his big sacrifices was missing the 18th ASEAN University Games (AUG) in Singapore last July 12 to 15 where a handful of his Ateneo teammates are competing in.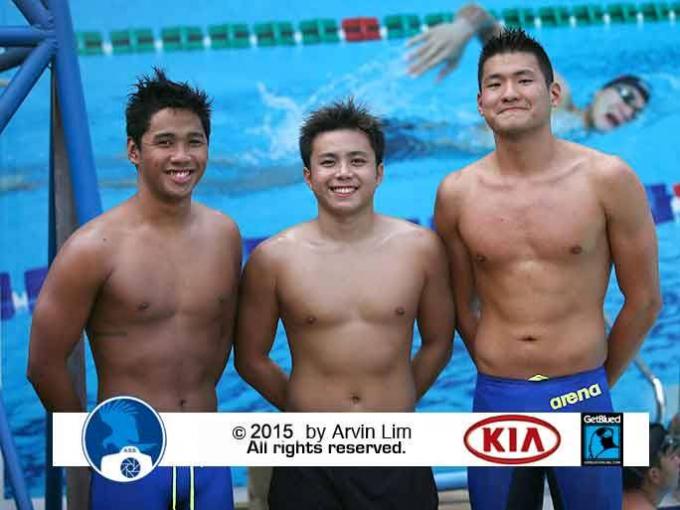 Lacuna with his batchmates Gio Palencia and Axel Ngui during UAAP 78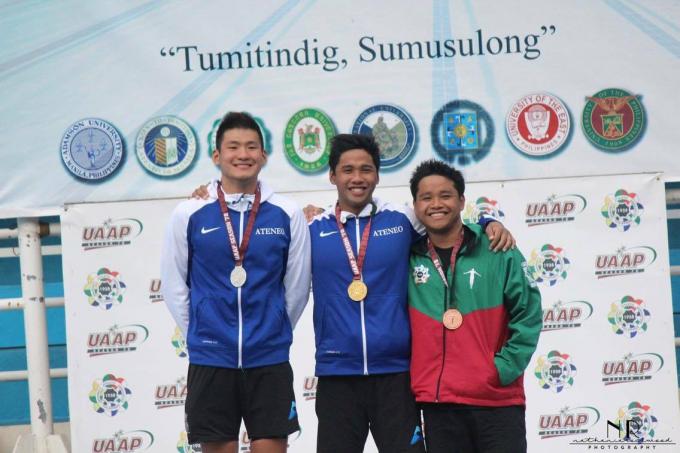 Lacuna with Ateneo batchmate Axel Ngui (Left) and brother Dexter Lacuna (Right) from UP
But all the sacrifices should pay off. In the coming games, Lacuna hopes to achieve a personal best time in the events he is participating in. He also hopes to make it to the top 20 or 30 of each event with the help and guidance of his coaches, Archimedes Lim and Candice Esguerra-Federiso, as well as the support of his teammates, friends and the rest of the Filipinos. Coach Lim will also accompany Lacuna in Rio as the national coach for swimming.
 
Beyond Rio, Lacuna isn't quite ready to hang his suit to dry. While his priority is to continue his studies, he also wants to try open water swimming and push the advocacy of teaching every Filipino to swim. Of course he still has a few good years in UAAP to burn. In the UAAP, he targets to make a name for himself by breaking and making more records that last a generation or two, just like Eric Buhain and fellow-Atenean Ryan Papa . 
 
"I want to establish a record that will take some time to erase and be remembered as one of the region's best swimmers who joined the UAAP," the swimmer ended.
Top