Biology students return from practicum and training at European natural history museums
(left:) Ninez Manaloto along with Robert Schreiber, one of the laboratory technicians in the Molecular Biology Lab of the Museum für Naturkunde Berlin; (right:) Jhoana Garces with her thesis co-adviser Dr. Ernst Bauernfeind at the Natural History Museum of Vienna.
In 2014, the Ateneo de Manila University's Department of Biology started an international cooperation with three German research institutions based on the project "Establishment of a consortium for biodiversity research by Philippine and German Scientists" (BIOPHIL) supported by the Federal Ministry for Education and Research of Germany. This has been extended recently into a SE Asian – EU project (SEABIO) under lead of the AdMU Department of Biology and is partly funded by DOST as collaborator under the SEA-EU-Net program.
In scope of these collaborations, the third batch of AdMU trainees, namely the graduate students Jhoana Garces and Ninez Manaloto, were sent to Europe during intersession to undergo training on aquatic insect systematics, for both molecular-genetic and morphological methods. They were accompanied by the Department's Research Coordinator, Dr. Hendrik Freitag, who coordinates this international scientific exchange for the Department of Biology.
The first module was held at the Museum für Naturkunde Berlin under the mentorship of Dr. Thomas von Rintelen and his team. The students performed molecular-genetic analysis and primer designing on insects which will greatly help in improving biosystematics knowledge of the underexplored organisms they are currently studying in the Ateneo.
The second module was held at the Natural History Museum of Vienna, Austria under the mentorship of Dr. Ernst Bauernfeind, a leading expert in Ephemeroptera taxonomy and co-advisor of Ms. Garces' BS thesis which was one of the projects awarded during the BPI-DOST Science Awards 2016, and Dr. Manfred A. Jäch, water beetle expert and curator of Coleoptera at the Vienna museum.
The third and last module on digital imaging, a necessary tool for systematics and ecology publications, was held at Comenius University Bratislava, Slovakia under the supervision of the Chair of its Department of Zoology, Dr. Ján Kodada.
Aside from their fruitful studies and training, they also visited other cooperating partner institutions of the Department, particularly Senckenberg Natural History Collections Dresden, Museum für Naturkunde und Vorgeschichte Dessau, where they saw different methods in preserving historical and scientific collections and how scientist are working towards presenting them for research and public education.
They also visited the Phyllodrom, an NGO-run rainforest museum in Leipzig, Germany, where the Department and Ateneo Biological Organization –eXplore.eXperience.eXcel had partnerships for promoting rainforest biodiversity conservation efforts.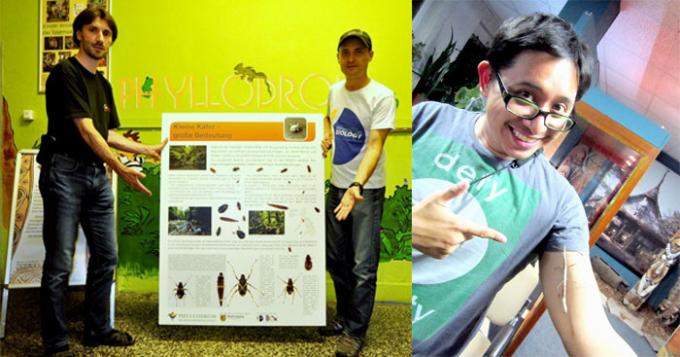 (left:) Phyllodrom Board Chair Norman Lindner and Hendrik Freitag of Ateneo present a mobile wall chart designed in collaboration with Ateneo Box. It promotes Philippine Biodiversity, especially aquatic beetles;(right:) BOx moderator Ronald Cruz of the AdMU Department of Biology during a previous visit at Phyllodrom.
Apart from the scientific program, the Ateneo team also got the chance to visit historic sights, old castles, parks and gardens.

(left:) Among other sights, the Ateneo team had the chance to visit Bauhaus Dessau, Germany, the "school of modernity", a UNESCO World Heritage Site since 1996; (middle:) Castle Devin, Slovakia, at the Danube River where the "Iron Curtain" formerly divided Europe; (right): Charles Bridge in the picturesque Old Town of Prague, Czech Republic.
Shortly after the training, Ms. Manaloto presented the results of her study and shared other Ateneo thesis projects at the Royal Entomological Society's Annual Meeting held at Harper Adams University, United Kingdom, this September.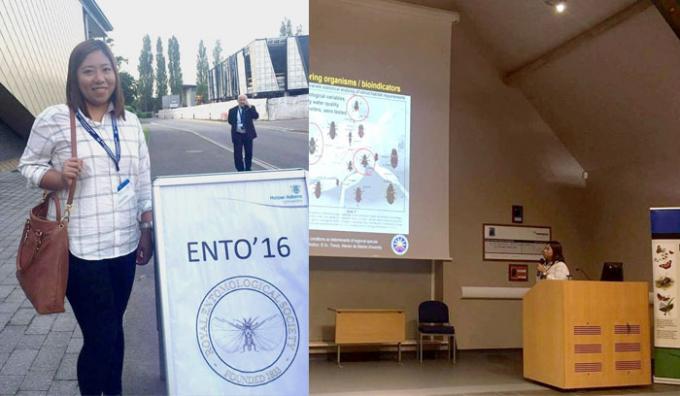 (left:) Ninez Manaloto at Harper Adams University, Great Britain; (right:) her presentation during the Royal Entomological Society Annual Meeting.
The next international biodiversity activity will take place under the SEABIO project (led by the Ateneo Department of Biology). This is an Aquatic Insect Workshop at Khon Kaen University, Thailand, in early November this year. Dr. Hendrik Freitag will attend as a resource person while Jhoana Garces and Clister Pangantihon will attend as participants. Perry Buenavente, researcher from the Philippine National Museum will join them.
Top