Ateneo partners with Finnish company for ECCE's software management tool
It's a good year for partnerships for the Ateneo as the School of Science and Engineering (SOSE) signed another memorandum of agreement that formalized the school's tie-up with Nomis, a Finnish company that provided information and communications technology solutions.
Initially a partnership that started in August 2015, the Department of Electronics, Computer and Communications Engineering (ECCE) and Nomis worked together to provide students and teachers with HelpDesk, a system that manages projects and activities.
"They (Nomis) approached us and donated the HelpDesk workflow and asset management system," ECCE lecturer Noel Patron said. "We're using this in our Software Engineering course as project management tool."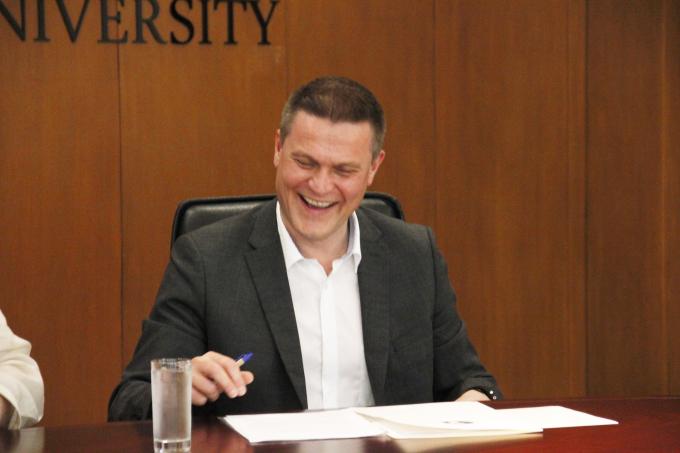 Ari Simberg says that it was a pleasure to be working with the Ateneo
Nomis Oy-Finland Business Director Ari Simberg said that HelpDesk was basically a database management system for different kinds of processes and projects.
"It's a computer assistant," he said. "There is a systematic approach that can easily help students and teachers."
Apart from this, HelpDesk is also a customer service system that can give students step-by-step processes in their academic transactions. It can also broadcast bulletins specifically for ECCE.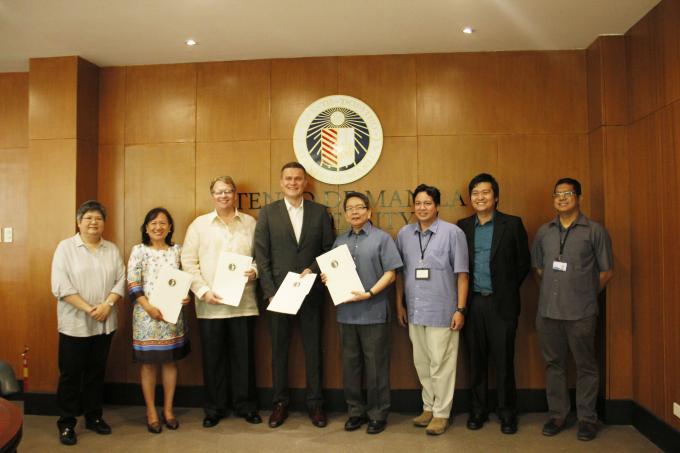 SOSE Dean Dr. Evangeline Bautista, Dr. Rosula SJ Reyes, Janne Ketola, Ari Simberg, Fr Jett Villarin, ECCE Dept. Asst. Prof. and Ateneo Innovation Center Director Carlos Oppus, Nomis Asia Ltd. Sales and Functional Consultant Jan Vincent Ortiz and ECCE Dept. Lecturer Noel Patron
"It gave us an opportunity to be able to show something to the students," Dr. Rosula SJ Reyes, chair of the department of ECCE, said. "We can also use it to do some tasks within the department."
Dr. Reyes was referring to HelpDesk's feature that monitored the students' progress in class activities or projects and determined if they were on the right track.
The memorandum of agreement also signified the first partnership in the country.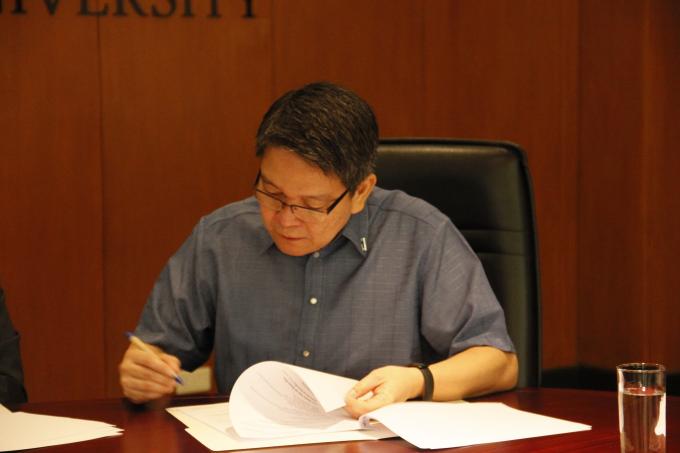 Before signing the agreement, Fr Jett says that he hopes this partnership will develop and benefit all students and teachers
"We expanded here in the Philippines because our customers asked to have services here," Simberg said. "3 years ago, we started thinking about where to extend and we thought it was a good thing to try higher education."
University President Fr Jett Villarin, SJ thanked the representatives of Nomis for giving the Ateneo the opportunity to be its partner. He also hoped that the donation will be used wisely and efficiently as software like these really help.
"We welcome this knowledge and hopefully it will challenge the faculty members and students to improve their tasks," he said. "There are many kinds of products out there and we welcome this opportunity."
HelpDesk has also been used by various organizations to management processes such as building and facilities, human resources, innovation management, IT support, testing management and product design and development management, to name a few.
To view more pictures, open Google Photos in a new tab.
Top