Ateneo historian Dr. Ambeth Ocampo wins Fukuoka Prize
Ateneo Associate Professor Dr. Ambeth R. Ocampo has been named recipient of the Fukuoka Academic Prize for being an outstanding historian and intellectual. The Fukuoka Prize website said Dr. Ocampo "made a great contribution to academic, cultural and social progress in the Philippines, through his university teaching, his writing for newspapers and magazines, and his service in historic and cultural administration."
Furthermore, Dr. Ocampo made clear the wider global context in which the country developed during the period of the Spanish and American colonial regimes. These have engendered an increase in nationalism, and have facilitated the advancement of international exchanges both with Asia and with the West.
Dr. Ocampo first began to write regular columns and essays on history and culture in newspapers and magazines in 1985 and these were included in his 2 best-selling books, Looking Back (1990) and Rizal Without the Overcoat (1990). He then went to London to study at the School of Oriental and African Studies (SOAS), London University, before entering the Benedictine Abbey of Our Lady of Montserrat in Manila. After leaving the monastery, he went back to lecturing, teaching and writing, and to date he has published more than 20 books.

The original citation from the Fukuoka Prize read that: "In all his works, he provides his readers with a clear insight into the actual thoughts and actions of the heroes and notables of history. By describing these luminaries as real people, with real feelings and emotions, and by effectively including into his writing the details of their lives, the atmosphere of the time and even a distinctive cultural fragrance, he presents history as a compelling narrative. This enables many people of all ages to feel history as something closer to them, and encourages them to maintain an interest in their country's past."
Through his efforts, Dr. Ocampo has increased public acceptance of history so that there is now an enhanced awareness on the subject.
The Fukuoka Prize is a means of showing respect to those who have made outstanding contributions to academia, arts, and culture in Asia. The award is intended to broadcast to the world the diversity and distinctiveness of Asian culture.
Among the past recipients of the Fukuoka Prize were Japanese filmmaker Akira Kurosawa (Special Commemorative Prize 1990), Philippine Architect Leandro Locsin (Arts and Culture Prize 1992), Indonesian Dancer R. M. Soedarsono (Arts and Culture Prize 1998), Filipino director Marilou Diaz Abaya (Arts and Culture Prize 2001) and Filipino artist Kidlat Tahimik (Arts and Culture Prize 2012).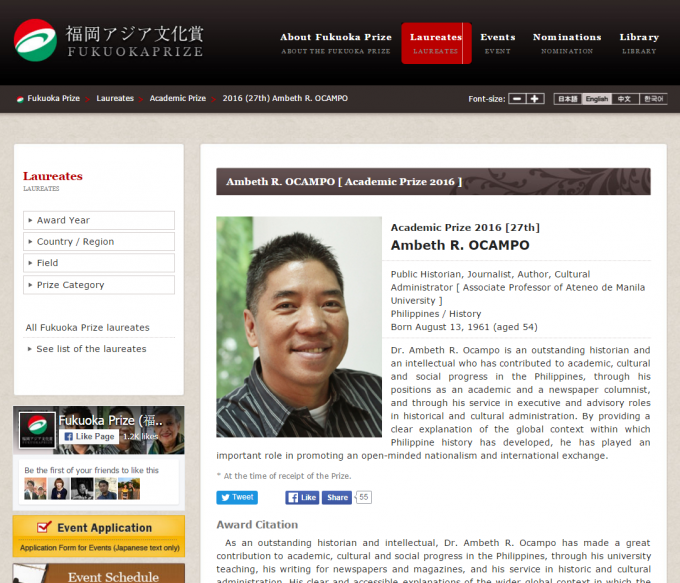 Top