Ateneo faculty wins Roux Prize for using data that will accelerate public health care packages
Dr. John Wong is the 2016 recipient of Roux Prize (Photo from Institute for Health Metrics and Evaluation).
Dr. John Wong, a faculty member of the Ateneo de Manila University's School of Science and Engineering's Health Sciences Program, is the recipient of the 2016 Roux Prize given by the Institute for Health Metrics and Evaluation (IHME), an independent global health research center at the University of Washington in Seattle.
The US $100,000 prize is given annually to individuals who use data from IHME's Global Burden of Disease Study (GBD) in their research to improve population health. The GBD has a repository of tools to assess health systems, trends, and challenges on a country, regional, and global level. Wong used the GBD's data to identify the top 48 diseases in the Philippines with the highest measures of global burden of disease.
Burden of disease compares the number of years of life lost to disease and the number of years lived with ill health. It is often measured in terms of disability-adjusted life years (DALYs). Medical researchers and policy makers use DALYs to assess the morbidity and risk factors among countries.
"In creating the plan, we used the GBD database developed by IHME. Their data contained estimates of disease burden, expressed as DALYs for about 220 diseases in the Philippines. This enabled us to rank and prioritize the medical conditions that the Philippine Health insurance Corporation (PhilHealth) should focus on developing benefit package," Wong said.
Wong, who previously worked with various local and international health organizations, was approached by UNICEF Philippines to help draft a benefit package development plan for PhilHealth.   Using data from GBD, he was able to complete his research in 6 months.  His study will make it easier for PhilHealth to optimize its resources.
"Health investments will create more value because they're directed at the highest burden diseases and the most cost-effective interventions. The yield in health outcomes will be higher," he said.
Wong has been teaching at the Ateneo for more than 12 years, bringing with him his experience in public health.  He takes great pride in his students when they contribute to government-related activities.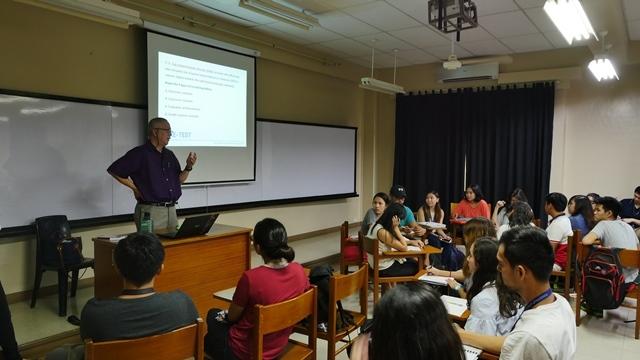 Dr. Wong with his students (Photo from Institute for Health Metrics and Evaluation)
"Our junior and senior Health Sciences students helped PhilHealth review some of their proposed benefit packages— helping them decide if these are priorities or not. In a previous year, a thesis group helped the Department of Health develop a scoreboard for measuring the health system performance of local government units," he said.
Teaching, Wong said, is his way of helping mold the next generation of health reformers.
"With their intelligence, creativity, and passion, Ateneans possess tremendous potential for sparking change in society. I know many graduates who have gone on to work in or with government, in spite of the many challenges in this type of work. We need more of them to make that commitment," he said.
Wong, who learned of his victory when IHMI emailed him in July, said that the next steps would be to identify the cost-effective interventions and determine the sustainability of funding these interventions.
Named for its founding board member David Roux and his wife Barbara, Roux Prize was launched in 2013 and draws nominations from researchers around the world. Wong is the first Filipino to win.
Top