Former Ateneo president bestowed honorary doctorate by French university
For being "a global citizen" whose academic and social responsibilities and duties have brought him all over the world, the Université Catholique de Lille (UCL) bestowed on Fr. Bienvenido Nebres, SJ an honorary doctorate on June 17, 2015.
Thérèse Lebrun,  Présidente déléguée de l'Université Catholique de Lille, cited in particular Fr. Ben's personification of their motto "in fide ad scientiam" – in faith and science.
She also mentioned that Fr. Ben headed the Ateneo de Manila University for 18 years and in the process "contributed to the development of academic excellence and involved the University in a program of social solidarity, marked by the creation of a network of over 400 public schools focused on the furthering of educational growth."
Lebrun's Citation
"Monseigneur, Madam Consul General, dear friends, dear colleagues, and dear Father Nebres,
It is a great honor and a great pleasure for us here at Université Catholique de Lille to welcome you today to invest Father Nebres with the title: Honorary Doctorate.
This ceremony also marks 10 years of a successful collaboration between our two universities: Université Catholique de Lille and Ateneo de Manila.
Through this ceremony, we would like to express all of our admiration, and recognize all of your achievements in relation to sciences, youth, and development.
More than anyone, you embody our university motto "in fide ad scientiam."
Dear Father Nebres, you come from a very fascinating country, which is dear to France, being that the Philippines are the only Catholic country in the Pacific. A country blessed with beautiful nature yet challenged by multiple natural disasters. A country of great differences:
·       Politically, between dictatorship and democracy,
·       Economically, between the wealthy and the underprivileged,
·       In the social spectrum between violence and peace, between corruption and togetherness.
You are a country of great challenges and also a country that fights for the dignity and respect of basic human rights.
With a population of 100 million inhabitants, today, the Philippines can rely on its active civil society, with many NGOs committed to fighting against poverty and for the protection of the environment.
France and the Philippines are closely tied as illustrated by the recent visits of President Aquino and President Hollande to each other's country.
In his vibrant speech, President Francois Hollande paid homage to the Filipino people and showed the way forward:
"Manila, which is, in the eyes of the world, a symbol of suffering and of hope, is the symbol of the courage of its people who hang on to hope. Who face challenges every day, but dust themselves off, reorganize and try again each and every day. Manilla's plea is a plea to justice so that the world becomes more of an evenhanded world: between the developed and developing world, between the rich and the poor countries, and between the world's multigenerational population. Justice is both for its people, but also for the development of science, technology, imagination, the  economy, environmental preservation, social atonement, prevention and finally, reducing the destruction of our world. This is the reason why our bond must be concluded between all of our different strengths: the strengths of our states, our economies, our allies and our cultures, so that we can keep Manila's pleas alive."
 
It is through this collaborative path for the last decade that we have been committed to one another. A long-lasting collaboration based on mutual respect, our common beliefs and values, the collective desire to develop and grow and the dream to build a better and fair world. Together.
 
It all started 10 years ago by the delegation of Université Catholique de Lille, headed by Anne-Marie Michel. Trust was earned very quickly and our international student exchanges began between IESEG, ISEN, ICAM, the Faculty of Economics and ISTC. In those 10 years, over 400 French and Filipino students were welcomed through our exchange programs. The Université Catholique de Lille can be proud of being the French university that has the most exchange programs with the Philippines.
 
Yet, our collaboration is not only through our exchange programs – it is much more than that.
As well as going for their studies, students from Lille also wanted to become involved in social projects, pursuing their stay in the Philippines by becoming a volunteer for months at a time in the Gawad Kalinga communities. We must also remember the community service project, created by students from the Université Catholique de Lille in aftermath of Typhoon Yolanda in 2013.
With our foundations created in social Catholicism, our two universities share a key motto: to be a student is to gain knowledge and acquire new skills: life skills, social skills, intercultural skills. It is holistic education.
Both of our institutions share similar concerns:
·       All Catholic universities share the essential role toward the improvement of society. Ateneo de Manila has played a huge part in the important Gawad Kalinga project. Ateneo Gawad Kalinga has contributed to the construction of 800 houses in 10 communities, and has brought its support to over 30 communities.
At Université Catholique de Lille, with the help of other partners, we will create a Chair of Social Business in order to further explore and develop the field of social economy.
In addition, we are key players in the development of the Humanicité pilot project, aimed at greater social inclusion.
Environmental protection, and sustainable, responsible development.
Both as a scientist and as a Catholic, you are deeply concerned with the future of our planet. Your university is very much involved in the international struggle towards the improvement of our environment. Current president of Ateneo de Manila Father José Villarin is a renowned international expert in everything related to climate change, and is a member of GIEC (Intergovernmental Panel on Climate Change).
 
Université Catholique de Lille, with the help of its Institute of Sustainable and Responsible Environmental Development, has taken firm steps regarding this issue for the past several years. As you have been able to see throughout this past week in Lille, the entire community of Nord-Pas-de-Calais region in France has participated in what has been called "The Third Industrial Revolution," a very important strategic program. At the heart of this program is our University's president, Pierre Giorgini, who leads the commission of the "Zero-carbon University."
I could bring up several other points regarding our universities' collective collaboration, but let's go back to you, dear Father Nebres.
You are the catalyst for this work: as a scientist, and as a man of faith and engagement.
Scientist foremost, and an important scholar
You are a Doctor of Mathematics and received your PhD at Stanford University in California in 1970. You are also a graduate of Theology and of Philosophy. You are internationally recognized for your research in mathematics. In 1972 you created the "Mathematical Society of the Philippines," and you were the founding member, in the same year, of the "South East Asian Mathematical Society."
To recognize your involvement alongside French researchers working towards the development of mathematical pedagogy research, the French government awarded you the Order of Academic Palms in 1981 and a National Order of Merit in 2001.
You were the president of Ateneo de Manila for 18 years between 1993 and 2011, an exceptional length of time.
You have contributed to the development of academic excellence and involved the University in a program of social solidarity, marked by the creation of a network of over 400 public schools focused on the furthering of educational growth. You contributed to the Gawad Kalinga communities, uplifting the welfare of the most fragile populations.
Today, you continue to partake in the fight for the underprivileged by being a member of the Board of Gawad Kalinga and being involved as a central participant of the Synergia Foundation.
Your convictions and your willpower stem from your deep faith. You entered into the Society of Jesus in 1956 and you were ordained in 1973. You were the Provincial Superior of the Philippines between 1983 and 1989, during the final three years of martial law and at the moment of democratic regime change with President Corazon Aquino. You were a central force in national reconciliation.
Dear Father Nebres, "homme de Coeur", you are an incredibly gracious man, very endearing and close to us all, inviting, calm, serene, and filled with a profound inner peace. In the Philippines, we fondly call you Father Ben. You love sports: you jog daily, and you have promoted university sports and follow the exploits of your university's teams.
You have walked along the Santiago of Compostelle paths, after having stepped down from your presidency in 2011.
          You love to read and you are a great lover of music.
          You are a global citizen, and you have been all over the world because of your academic and social responsibilities and duties.
          Dear Father Nebres, we are incredibly proud to welcome and honor you today, and to bestow upon you the title Honorary Doctorate of the Université Catholique de Lille.
          Through your action, your charisma and your work, you exemplify the mission of every Catholic University, as described in Article 32 of the apostolic constitution "Ex Corde Ecclesiae:"
A Catholic University, as any University, is immersed in human society including among its research activities. Therefore, it will study serious contemporary problems in areas such as the dignity of human life, the promotion of justice for all, the quality of personal and family life, the protection of nature, the search for peace and political stability, a more fair sharing in the world's resources, and a new economic and political order that will better serve the human community at a national and international level (article 32)."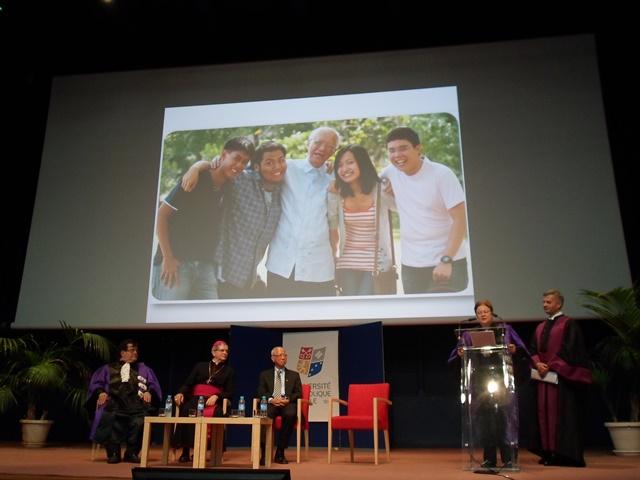 Lebrun further added that Fr. Ben "contributed to the Gawad Kalinga communities (during these 18 years), uplifting the welfare of the most fragile populations."
It was notable that Fr. Ben continued to "partake in the fight for the underprivileged by being a member of the Board of Gawad Kalinga and being involved as a central participant of the Synergia Foundation."
In answer, Fr. Ben said the awarding was actually an occasion "to celebrate 10 years of very fruitful collaboration and exchange between the Ateneo de Manila and the Catholic University of Lille, as well as with other French universities."
Fr Ben's Response
"I would like to begin by thanking  Msgr. Laurent Ulrich, Archbishop of Lille and Chancellor of the Universite Catholique de Lille, Pierre Giorgini, President of the University, Vice-Presidents Therese Lebrun and Bruno Cazin, Dean Sr. Caroline Runacher  and the  Administrators, faculty and staff of the Catholic University of Lille for this singular honor. I have visited the university several times and have had occasions to interact and talk with our Ateneo students on exchange. I regularly meet alumni, who remind me that we met here at Lille.
I acknowledge and thank Consul General Amatong and other officials of the Embassy of the Philippines in France for gracing this occasion with your presence. This is really about our shared mission of bringing our countries and people closer to each other.
I would like to take this occasion to thank the university for your generous and kind support through Gawad Kalinga for our people, who suffered and lost so much from Typhoon Haiyan. Pope Francis summed up the faith of our people after his visit to Tacloban: "These are a people who know how to suffer and who know how to rise again."
This occasion is above all to celebrate 10 years of very fruitful collaboration and exchange between the Ateneo de Manila and the Catholic University of Lille, as well as with other French universities. It also comes soon after the visit of President Hollande, the first President of France to come to the Philippines. He came to the Philippines in great part because the Philippines is Ground Zero for the destructive consequences of climate change, as Typhoon Haiyan and many other typhoons have shown. It is fortunate that Fr. Jose Villarin, now President of the Ateneo de Manila, is himself an expert on climate change and can help lead the Philippines in the forthcoming meeting in Paris this December. During President Hollande's visit our two countries also signed  a Memorandum of Understanding on France-Philippines Cooperation in the area of Higher Education and Research. We thus look forward to even more vigorous cooperation and exchange in the next 10 years.
The occasion whose 10th anniversary we celebrate today  began with the visit of Anne-Marie Michel and a delegation from Lille Catholic University in 2005 and it has flourished through the dedication of our Offices of International Relations, the support of our administration and faculty and the openness to new experiences and cultures of our students. Student exchange on a smaller scale actually started 5 years earlier with ICAM, supported through Archipel scholarships from the French Embassy in Manila. The Ateneo students who came to Lille over these past years all speak of their experience as the highlight of their university years. They grew in independence, in self-knowledge, in openness to French and other cultures. They learned from our differences of culture, governance and social services and promised to use these lessons in their future leadership roles. French students, in turn, remember  above all the Filipino people whom they encountered, especially simple  people and the poor.
One Atenean  speaks of how she actually grew closer to her faith and to God in her European experience. She writes: "I really pushed to attend a mass in Florence, giving up shopping for it. Right after the mass, there was Confession being held in the chapel. When I got in, I burst into tears. I just talked about my being not a good Christian . . . When I stood up to leave the Church, an old couple signaled me to approach them. The man held my hand and said, "Thank you for being hope for the next generation." They might have said that in a sense that they saw the youth going to mass, which was not something common in Western Culture. But for me, it was as if God readily and immediately answered my question, that there was hope for me to become a better Christian. This was only one of the many events where God revealed himself to me. God guided me throughout my stay there and I couldn't feel anything but blessed that he guided me and gave this wonderful opportunity for me to grow, meet new friends, build strong relationships and inevitably become a better person."
We have noted something very special about our French exchange students, which singles them out from students from many other countries. They choose to live with ordinary Filipino families, learn to take our challenging public transportation and really delve into our history and culture. Many of them work for the poor, especially streetchildren and children in detention centers. Some of them come back and continue that work. An outstanding example is Laurent Thorigne, who stayed for 10 years, working with the Missionaries of Mary to help young boys and girls in detention for various crimes, to transform them and help them find their way back to normal society. He has beautiful stories to tell and, back in France, he hopes to carry on the same work for young offenders in Marseille. His example and that of the Missionaries of Mary show something I have learned from Gawad Kalinga about helping the poor. It is not material assistance that transforms their lives. It is the continuing gift of self through presence, persistence and care. It is the lesson of God's gift of self in the Incarnation, a lesson sometimes obscured by our learning and theories.
 
Others come back and establish successful enterprises, like the group that established a successful French restaurant in Manila's central business district. Several work in developing social enterprises with Gawad Kalinga. One of them, Fabien Courteille, from a Business School in Grenoble, has built Karpentoys, a social enterprise making toys with indigenous materials and designs. He writes: "What I love the most of the Philippines are the Filipinos. This is such a beautiful country with magical places and the Filipinos will always make your stay memorable with their unique sense of hospitability. I have been a volunteer for GK for almost 3 years now and every day you find a Filipino ready to accommodate you, to share his food with you, to share his happiness and story with you. I love GK's spirit, the sense of solidarity, and the values of this well-grounded organization.
I decided to stay in the Philippines because it is here that I found my call and my purpose. I truly believe in GK's vision and I know that we can achieve our dream of ending poverty. What I wanted was to start a business and for me, this is the right time and place to do it: in a rising economy and as a part of this big GK family, where we create goodness and social impact every day for a better world."
 
Social Innovation, Social Enterprise and Social Entrepreneurship have been an important part of our conversation on the future of the cooperation between French universities and the Philippines. It is also a major endeavor of the Ateneo de Manila University with our Center for Social Innovation and  Center for Social Entrépreneurship. Our Ateneo delegation learned much from our visit to AlterEos this morning and we look forward to our visits tomorrow to initiatives on sustainable development and social entrepreneurship. We also look forward to sharing of our research and experience on social entrepreneurship on Friday.
 
Sustainable development and social entrepreneurship thus show an important way forward for the cooperation between our universities and our students and alumni. From the essays of our exchange students, this working together is also learning from each other's culture and a deepening of engagement in our own cultures. I look forward to our learning more about the history of the Lille region – its economic transformation through the centuries and the role of the university in providing leaders and managers for this transformation.
 
Ateneo de Manila prides itself as a school for leaders for Philippine society. A particularly deep challenge is how to bridge the inequality gap, which is not only economic, but deeply social and cultural. My own deepest experiences of seeking to close this gap are with Gawad Kalinga and social entrepreneurs. What has become clear is that success in closing this gap in the Philippines needs young leaders who can navigate two separated cultures: the culture of the great majority poor and that of those who hold power and decision-making. These cultures are separated not only by economics, but by language and mindsets. Bridging them requires presence, entering the homes of the poor and eating with them. So we are deeply edified by Laurent Thorigne, Fabien Courteille and by the many other French students and interns who have become deeply connected with ordinary Filipinos and the poor. 
 
Allow me to add a word about a social and cultural divide that concerns both our countries, the challenge of building community and trust with our Muslim brothers and sisters. On the top levels, the Philippine discussions are on formulating a Basic Law for the Autonomous Region of Muslim Mindanao. My own involvement is closer to the ground. Fr. Villarin and I work with Synergeia Foundation, which helps poor public elementary schools in 37 of the 100 municipalities in the Autonomous Region of Muslim Mindanao (ARMM).  I also work with Gawad Kalinga, which has been building GK communities in the Muslim provinces since 2003. Recently we started to build kitchens and provide schoolfeeding programs for the malnourished children and for evacuation centers in times of conflict. People ask me if this is not dangerous. I tell them that we feel safe because Gawad Kalinga in the Muslim provinces is led by Christians and Muslims, who have built friendship and trust over the years through their work for the poor. They are the bridges that allow us to cross the centuries-old divides of mistrust and, in the process, widen the circles of friendship and trust.
 
Before I end, allow me to go back 40 years ago. My experience and role in academic exchange with France actually goes back to exchanges I helped start in mathematics. In 1975, French mathematicians led by Prof. Claude Berge came to Manila to run a Southeast Asian summer school in Graph Theory. Prof. Jean Dieudonne, who is from Lille, gave lectures for the Southeast Asian Mathematical Society in Singapore. The development of mathematics in the Philippines and Southeast Asia owes a lot to the interest and support of French leaders in the international mathematics community, among them, Professors Jacques-Louis Lions, Laurent Schwartz, Jean-Pierre Kahane, and Haim Brezis. This continues to this day and I will be meeting next week in Paris with Professors Brezis and  Kahane, Dr. Christian Duhamel, Prof. Doina Cioranescu and other colleagues from Paris VI. This work owes very much to the generous support of the French Embassies in Manila and Singapore.
 
In the 1980s I invited Jesuit colleagues, Fr. Pierre de Charentenay and Paul Valadier to visit us and help us engage the intellectual challenges presented by the politics of our day: martial law on the right, a growing communist challenge on the left, and a Liberation Theology that was being instrumentalized by the Marxist left. I also had the great privilege of being hosted at Centre Sevres not only by Fr. Pierre, but by Fr. Marcel Regnier and having a meal with Cardinal de Lubac, who was one of the intellectual heroes in my earlier Jesuit formation. Fr. Pierre stayed with us last year and has recently published a book on the Philippines. I would also like to recognize the great contribution to Filipino history and culture from Dr. Nicole Revel, who is with us today. Dr. Revel is an anthropologist with CNRS, who has spent decades working among the Palawan people in the Philippines. With the support of the French government she has recorded and transcribed the oral epics of the Philippines and organized them into an electronic archive, a gift to scholars from around the world. For this singular contribution, the Ateneo de Manila conferred on her the Doctorate Honoris Causa in the Humanities.
 
Finally, we carry out our shared mission to go to the poor and the peripheries and to bridge cultural and religious divides in a privileged time, the time of Pope Francis. In a meeting 40 of us, Jesuits,  had with him in the Philippines, we asked what message he would have for our youth. He said, "Tell them not to be afraid", to face the world and the future with courage. Our French exchange students and interns have been exemplars of this openness and courage. Thank you for this occasion to celebrate our cooperation and exchange and we look forward to 10 and more years of working together for our students and our universities in building a better and more equal world.
 
Thank you once more to the Catholic University of Lille for this great honor. My deepest thanks to Consul General Amatong and friends from the Philippine Embassy, to my brother Jesuits and to alumni and friends from the Ateneo de Manila, led by our President, Fr. Jose Villarin.
 
Good evening to you all. "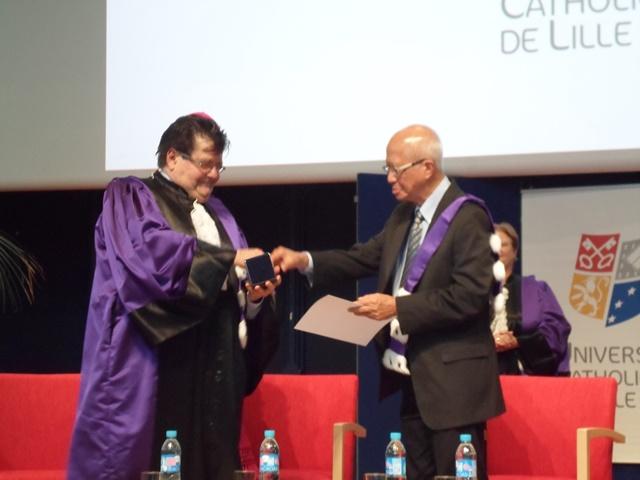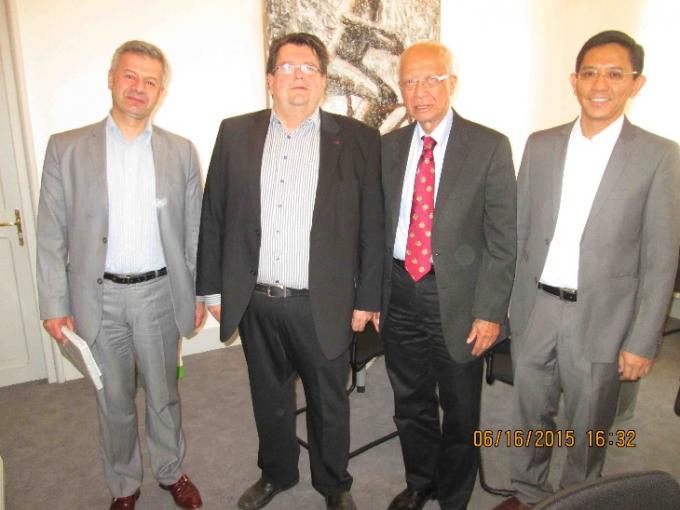 Courtesy Call on President Giorgini at Lille Catholic University. (L-R) Fr. Bruno Cazin (Vice President), Dr. Pierre Giorgini (President of LCU), Fr. Bienvenido Nebres, S.J., Mr. Glenn de Leon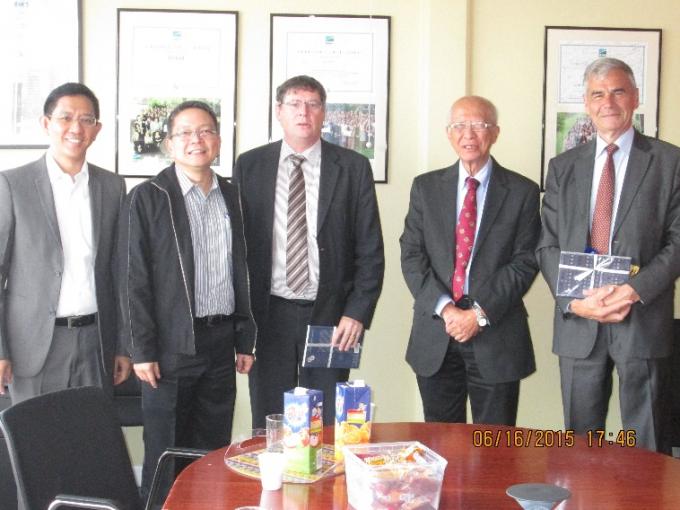 Visit to IESEG School of Management. Mr. Glenn de Leon, Fr. Jose Ramon Vilarin, S.J., Mr. Pascal Ameye (Associate Director of International Relations of IESEG), Fr. Bienvenido Nebres, S.J., Dr. Jean-Philippe Ammeux (General Director of IESEG)
Top